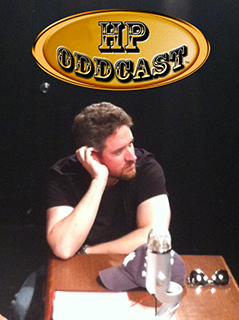 Welcome to Episode I pt I of HP Oddcast®™. As my first guest on HP Oddcast®™ I sit down and talk to the very funny and talented Kevin Magee. Kevin Magee has been doing stand for quite a while now and recently won the Westchester Comedy Festival as "Funniest Comedian Of The Westchester Comedy Festival". In this podcast of HP Oddcast®™ we talk about his life, family, friends and career and if you want to hear something off the wall I suggest you download part 1 Episode 1 and every part of my interview with Kevin Magee. Also in this first episode of HP Oddcast®™ I am joined by the very funny Rahim Rosenfeld and Eddie McGuire.
So do your self a huge favor and give HP Oddcast®™ a listen
and also like my Facebook page HP Oddcast®™
If you like what you hear please support the arts, thank you!!!.
Podcast: Play in new window | Download
Subscribe: Apple Podcasts | Stitcher | Email | RSS | More